Three years is a relatively short period of time. However, during 2020 – 2022, the economic landscape of the built environment underwent significant changes across almost all business functions.  Costs have taken unprecedented upward swings that have crushed a decade of previously "predictable" project costs. That upward trend is continuing, with a bit lowered intensity, that may well move through all of 2023 and into 2024.
Understanding what happened to such a large market in a small stretch of time and having a cogent story to share about it will be invaluable to anyone facing the increasingly difficult conversations with owners, clients and financial entities involving the "how much will it cost?!" topic.
A Matter of Comparison
After the US Great Recession of 2008 and global recession of 2009, construction costs rose at an average  3% from 2011 to 2022 across all markets.  During that time, construction estimating, budgeting and financial planning actions were fairly consistent in their rise from year to year.  So, for a decade it made for comfortable cost predictions and successful budgeting.
Expansions and enlargement of the various world construction markets followed along with the predictable project costs. The markets matured and started to evolve into truly global networks.  Networks that became deeply entwined in the layers of the business—raw material harvesting, processing, shipping, material/component/systems manufacturing, packaging, global shipping, delivery and emplacement.  Work was good, costs were rising, but in a predictable way.  And databases of cost knowledge were quietly but deeply used throughout to measure past and predict future pricing.
"Certainty-of-cost" was a normative phrase in board rooms.  Funding was developed and construction of billions of dollars of work were put in place.
The COVID outbreak in 2020 and the follow-on years of emergence from that global event, dampened  the global construction work but eventually expanded to meet unprecedented demand from the awakening markets through 2021 through 2022 and to the present.
What the world was not prepared for was the extreme cost impacts to the now global construction networks that came post COVID.  Numerous costs influencers, small and large, converged to cause increases in every part of the building business—labor, fuel, materials, material management, shipping and equipment–were deeply affected by some market movement—many were totally unpredictable.  The result?  Costs of construction spiked up. In 3 years, those costs grew at 3 times the past average of the previous decade. See the following tables and note the steep rise to the right of the 2020 year line in each.  https://edzarenski.com/2022/12/20/construction-inflation-2023/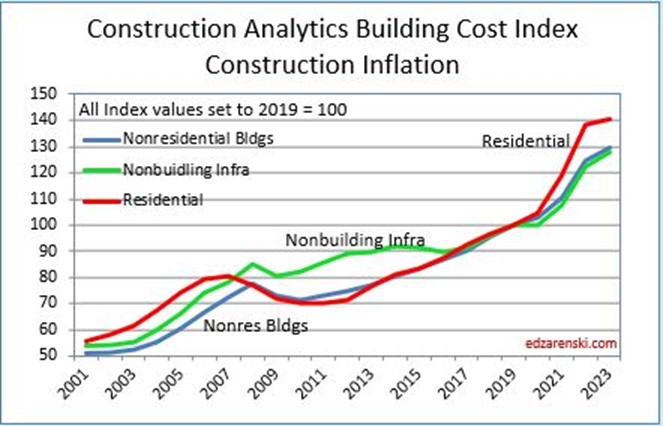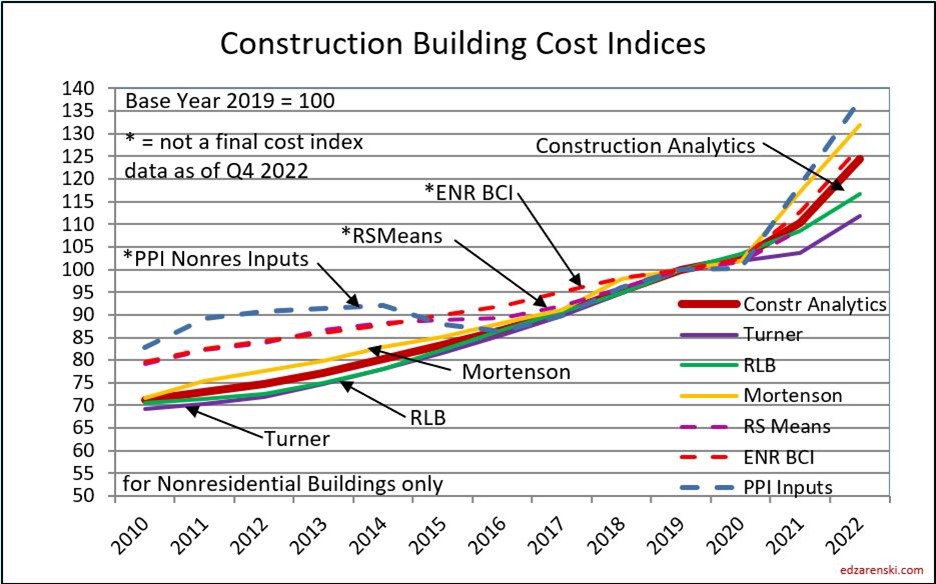 The Impact on Budgeting
This short and steep rise in costs broke the decade long cost-certainty streak that companies enjoyed for budgeting, estimating and hard costing of projects.  Jobs that were funded before, during and after the rise were all adversely affected and poorly received from owners and clients.  Most of the construction budgets were benchmarked from the previous decade of market behavior. 10 years of product data were not easily forgotten or abandoned by construction service buyers.  But the reality of burgeoning increase was there.
In 2022 the following impacts were noted by Gordian:
93% of all material costs, equipment prices and labor wage rates experienced change
71% of all construction material costs increased
98% of all labor wages increased
71% of all equipment prices increased
Cost highlights from the same period are just as telling:
Ready mix concrete up 28%
Structural steel up 24%
Hollow metal doors up 33%
Copper pipe up 76%, copper wire up 23%
Overall construction costs increased 14% in 2022 alone. https://www.bdcnetwork.com/us-construction-costs-expected-rise-14-year-over-year-close-2022
As a result, in cost presentations across the globe, graphs like these were being presented to show how previous budgeting v post-COVID budgeting was causing large cost increase impacts to projects-in-planning.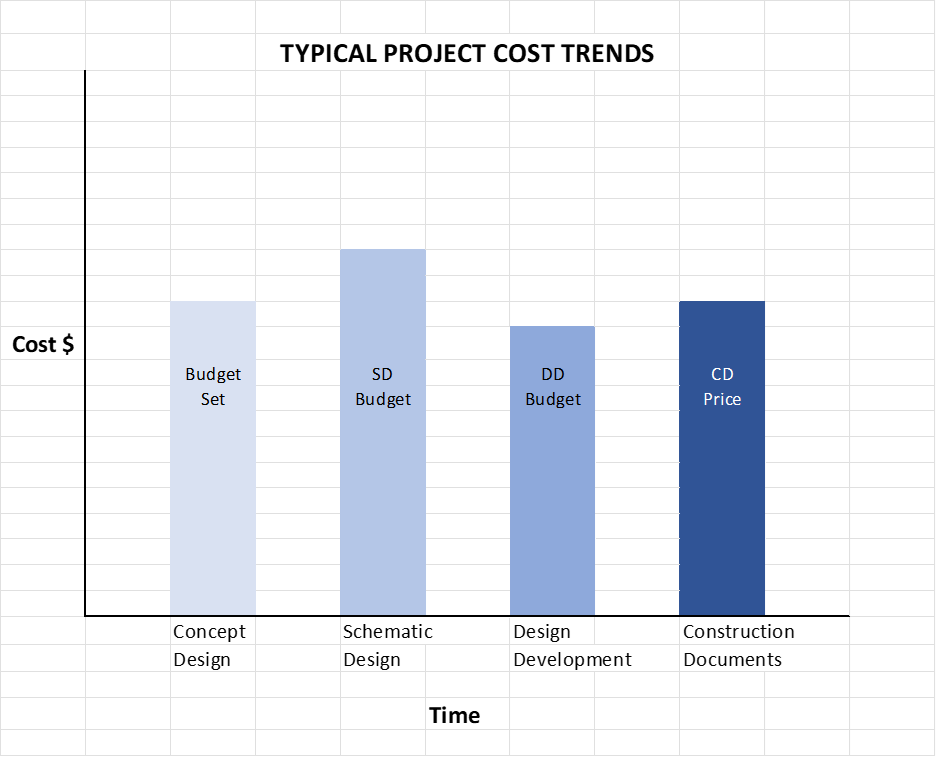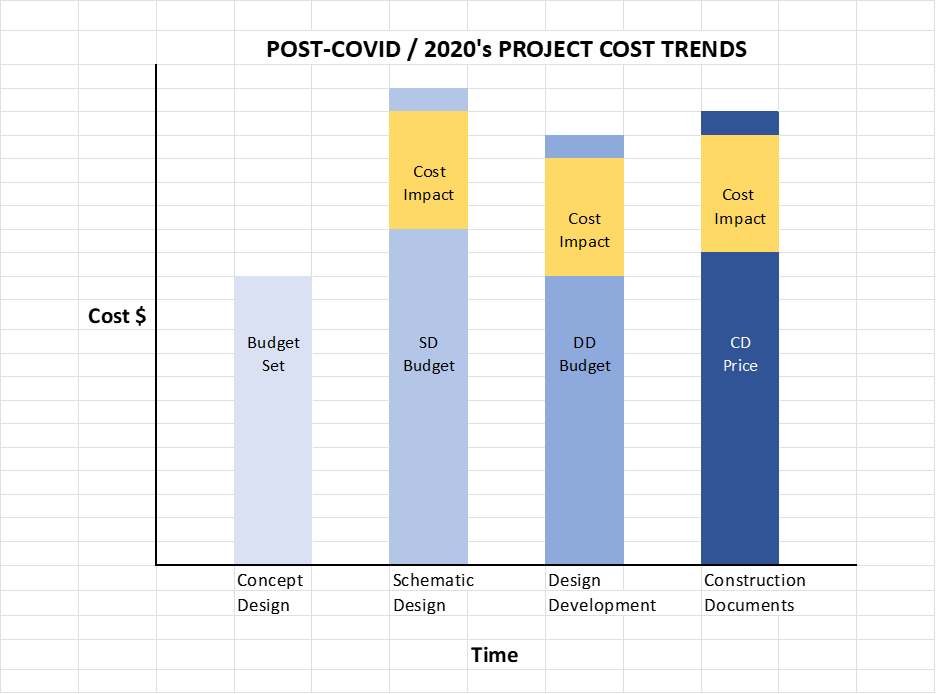 Consequently in 2021-2022, some projects were stalled, phased, cut back, or shelved as buyers tried to measure the market and how long it would take to return to a more predictable state of inflation.
What Is the Right Message Now?
The message that makes the most sense is the one of balanced truth and optimism: we don't know how much prices will rise into the remainder of 2023, we hope between 4 – 6%. Prices will likely continue to fluctuate through 2023, and hopefully start trending back to a lower yearly inflation level below 4%.  Inflation will not likely come down and return to a pre-COVID normal.
It will take time for cost impacts to stop radically impacting the global construction market. The prime drivers affecting construction those costs—labor shortages, transportation/logistics issues, world events, basic material shortages, complex manufacturing impacts and adverse weather events-of-scale are still too mercurial to be predicted. However they are likely to decrease in either frequency of depth of cost impact.
The message to deliver to owners and clients seeking cost certainty for budgets is complex and can't be defined. Yet.  It will stabilize gradually but perhaps shakily.
The new normal is simply the now normal.
What project teams should embrace is solid communication, focus on scope definition (even at scale and in the conceptual stage of design), and be willing to use purchasing plans and multiple contingency inputs to help balance out extremes in future pricing.  In short, communicate deeply across the project inputs and often, with all stakeholders having input.