There are many sustainability certifications that buildings can be awarded once complete. We've created this blog on some of the top certifications, what their goals are, why they are significant and the pros and cons of each. Take a look and see if you next build will qualify for any of these certifications.
Guiding Principles Compliance – DOD & Standard
Goals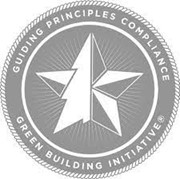 The goals of the Guiding Principles Compliance (GPC), created by the Green Building Institute (GBI), is to ensure healthy, safe, resilient, and resource
efficient federal buildings.
Mechanics of the Certification
This federal building verification system provides two different certification options – the Department of Defense GPC New Construction Certification which is the initiative for DOD buildings, and the Standard GPC New Construction Certification. There are six specific assessment areas for GPC: Employ integrated design principles, optimize energy performance, protect and conserve water, enhance indoor environmental quality, reduce environmental impact of materials, and assess and consider climate change risks.
Pros:
Sustainable practices implemented into design, construction, and facility management
Human resource and energy cost savings due to optimization of building solutions
Multiple review options provide cost effectiveness based on project needs
Cons:
GPC is strictly for federal buildings
LEED
Goals
The goal of the LEED (Leadership in Energy and Environmental Design) certification, developed by the U.S. Green Building Council (USGBC), is to create high performing sustainable buildings through a rating system that provides building owners and operators with a framework for identifying and implementing green building design, construction, operation, and maintenance solutions. LEED is a whole-building approach to evaluate environmental impact and performance.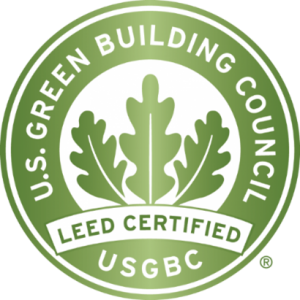 Mechanics of Certification
LEED is available for all building types and all building phases – new construction, interior fit outs, operations and maintenance, and core and shell. The certification is awarded when a project has satisfied all the prerequisites and earned a minimum number of credit points by using sustainable strategies in building energy efficiency, water savings, building materials selection, indoor environmental quality, location and transportation, site development, innovative strategies, and regionally focused priorities. There is a total of 110 possible credit points, with various rating systems depending on the number of points you acquire.
Certified: 40-49 credit points
Silver: 50-59 credit points
Gold: 60-79 credit points
Platinum: 80-110 credit points
Pros:
ESG goals can be met for investors
Third party verified
Rating system is flexible enough to be applied to all building types
LEED brand name recognition means stakeholders will recognize and understand the meaning of the certification
Lower operational costs, and opportunities for tax incentives and rebates
Cons:
LEED rating system can allow points to become counterintuitive for the sake of point completion and certification achievement
Requires time and paperwork tracking throughout the certification process
Fees for various steps of the process
Associated higher upfront costs
Possible need for outsourcing (sustainability consultant, innovative architect)
WELL Building Standard – International WELL  Building Institute
Goals
The WELL Building Standard, created by the International WELL Building Institute, uses a people first approach to create and certify spaces that advance human health and wellness through the built environment.  Buildings that are WELL Certified prove that building design, operations, and behaviors within the places we live, work, learn, and play can be optimized to advance the health of building occupants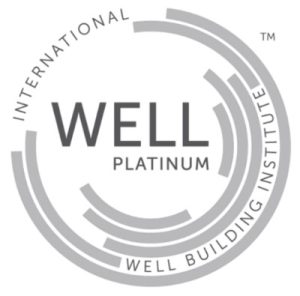 Mechanics of Certification
The core concepts of WELL certification are air, water, nourishment, light, fitness, comfort, and mind. WELL offers certifications to new and existing buildings, new and existing interiors, and core and shell projects. A building must achieve a defined score in each of the above categories, submit project documentation and conduct an onsite audit, which then gives the opportunity to be awarded a silver, gold, or platinum WELL certification. After being officially awarded a WELL certification, the registered project must be recertified every three years.
Pros:
Improved rate of retention and production in tenants
Third party verified through GBCI
Can be utilized on existing buildings without requiring major capital improvements
Opportunity for price reduction eligibility
Cons:
Not focused on environmental sustainability
Benefits are not always tangible, but are seen overtime after building is established
Client type best suited for WELL certification
The client type that is best suited for WELL certification is one that is more focused on sustainability for its tenants. The client must be prepared to think about building design and operations in a unique way, making sure to put people over profit and prioritize health and well-being.
EarthCraft – Light Commercial and Residential
Goals
The EarthCraft Light Commercial and Residential certifications are centered around reducing environmental impact and utilizing sustainable design solutions. Through the Light Commercial certification, resource-responsible design and construction practices are implemented into small-scale or "light" commercial buildings. Through the EarthCraft Residential certification, homes are designed, sourced, and constructed to reduce environmental impacts. 

Mechanics of the EarthCraft Certification
Both EarthCraft Light Commercial and Residential follow the same steps for their certification process. All applicants must meet the minimum standard for certification and encourage builders to earn badges representing enhanced efforts in performance, health, environment, and comfort. For light commercial, the process is most efficient if registration is completed as early in the design process as possible. For residential certifications, the project must be registered with EarthCraft prior to pre-drywall inspection.
Pros:
Increased quality of life for building occupants
Lower operations and maintenance costs
Opportunities for tax credits and incentives through state and federal programs
Increased property value
Cons
Requires a more detailed level of quality control due to heavy reliance on site inspections and diagnostic testing
Includes fixed costs for registration and type of badge, other costs depend on the choices made by the design and construction teams as to which sustainability attributes will be implemented.
Client type best suited for an EarthCraft certification
The client best suited for an EarthCraft Light Commercial certification would be a client hoping to certify a smaller scaled commercial building with the goals of improving their environmental impact. Homeowners or prospective homeowners looking to reduce personal utility bills and wanting to live eco-consciously are best suited for EarthCraft Residential.
Passive House
Goals
The goal of the Passive House Certification is to implement a performance-based energy efficiency design standard using 5 passive house principles – climate appropriate insulation levels, airtight building envelope, thermal bridge free design, high performance windows with orientation and shading as required, and continuous ventilation with heat recovery. The Passive House building standard relies on energy efficiency with passive solar techniques and internal heat gains to reduce heating and cooling demands while creating simple methods for providing needed heat.
Mechanics of the Passive House certification
A building that wants to achieve a Passive House certification must provide record of adjustment of the ventilation system, a declaration by the construction supervisor, photographic documentation, and a completed review by an official Passive House building certifier. The Passive House certification utilizes an independent third-party verification step using a blower door test to verify the thermal regulation of the building.
Pros:
Provides premium indoor air quality and comfort for tenants
Design choices are tailored to location and building specifications
Low utility bills and operational footprint
Tax incentives for ownership of a Passive House
Cons:
High initial costs, but the larger the building the less of a cost difference there is between becoming certified and using conventional energy star standards.
Client type best suited for Passive House Certification
A client who is best suited to achieve a Passive House Certification is one that has a focus on reducing energy usage, lowering utility costs, and improving the efficiency of their building envelope.